What is the Apple Icon?
As a large portion of mobile devices consists of Apple products, you should be mindful of the Apple icon (touch icon) of your website. The Apple icon is the visual representation of your website when being accessed by the home screen of a user on iOS. In nature, it has a lot of similarities with a favicon, however, the latter does not work with iOS. If you haven't defined a proper Apple icon, the user will see a minified version of your website's home page which won't look as good as your brand's logo.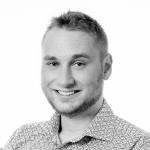 Posted By Nick Berns
Nick Berns is a web developer & SEO specialist.